Who doesn't like

LOVE

flowers??? Well you're the weird one if you don't! My favorite flower to receive is Tulips...in any color, but my all time favorite are Yellow Tulips! Getting flowers, any kind for that matter for no reason is always a pleasant surprise. My second all time favorite flower is the white Peony. Really, these are soooooo beautiful. I love them when they are fully bloomed or just barely opening.
Okay, enough of my flower rambling! I decided to make a piece of art to resemble a fully bloomed peony. Can you guess what I used to make the flower? I was also able to use a piece of fabric from my scrap busting bin and I also reused a garage sale find frame.
Sorry for all of the pictures....I couldn't decide which ones to show, so I just kept most of them.
Have you guessed yet? It's really simple.
To make the flower petals was fun and easy...but the burning of my finger tips, not so much .
The flower looks like porcelain here doesn't it.
I really enjoyed making the center of the flower....after it was cooled I then spray painted it.
You figured out what was used yet. C'mon they're repinned all over Pinterest.
I wiped down the frame....my bestie found it for me at a garage sale for -

dun...dun...dunnnnn

25¢
I cut out a piece of cardboard to fit the frame, then wrapped it in the piece fabric. For the backing I just glued a piece of newspaper so you couldn't see all the glue and tape. Sorry I forgot to take a picture of it.
Then I hot glued the flower onto the fabric. After the glue dried I stood the frame up and put glue into the crevices. I don't want it to fall off after it's put up.
It looks really great if I say so myself. Well of course I'm gonna think that, lol!!
The three different textures used were wood, fabric and plastic!!
I used spoons for the petals and forks for the center! See, now you're thinking...really or whaaat!
Now it's ready for hanging. I just have to decide how I should hang it. The hook is at the top, the way the pic above is. But I could easily add hooks to hang in the other way.
Leave comments letting me know which way to hang it.
I'll tally up the comments next week and hang it up.
Thanks for stopping by! Have a fabulous week!

Linking up here and many other parties! Take a look at my Parties page.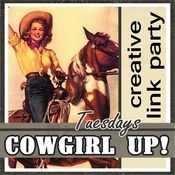 Today's Creative Blog
Pin It