This past Saturday we drove out to the country to visit some wonderful friends. They have their property in Sommerville, TX and a short gulf cart drive to the lakes edge. I love it!! Well, we never go or leave there empty handed. Not that we expect or they expect anything, it's just a nice gesture since we only get to see them about once a year. I wanted to make something that I knew they would enjoy and appreciate. So I decided on a Patriotic Pillow. Of course it can be put out all year round, not just the 4th of July.
The Patriotic Pillow
(I apologize for the not so great pics. I was in a hurry)
I decided on the more muted colors of Red, White and Blue.
1.) Washed and pressed the 3 fat quarters.
2.) Made my cuts, I didn't measure - I usually eyeball everything.
3.) I printed out a star, traced it onto cardboard and cut it out.
4.) I traced stars on the light fabric.
5.) Cut out my stars and they're ready to be sewn on.
6.) I sewed using a zig-zag stitch. I sewed on the stripes to the light fabric, I sewed the stars to the blue fabric, then sewed the blue fabric onto the light fabric. Then I used embroidery floss to sew the buttons onto the stars.
For the back I used burlap lined with the light fabric, I didn't want the stuffing to poke out thru the burlap.
Here is the finished pillow. I have to say they really loved it. I loved making it for them.
I made another pillow for my friend's birthday but I will show hers later. If you follow me on Instagram (@fifiybr) then you got to see a sneak peek of it and I also introduced her pet potbelly pig Bacon. Her parents are the ones who received the

Patriotic
Pillow

.
Thanks for stopping by, everyone have a fabulous day!!
Until the next project.....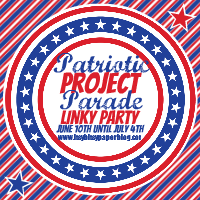 Pin It